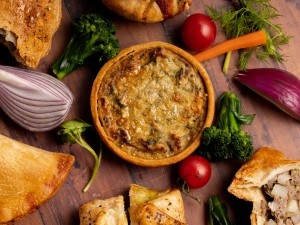 In 2007, John and Phil Daniels set up their business on the edge of the Birmingham Jewellery quarter to produce a range of frozen, 'ready to bake' prepared main courses and have been continuously developing their prepared foods to get the right balance of ingredients, flavour and convenience for our customers.
Chef, John has been a highly qualified Chef in restaurants and hotels in England and Wales and is the driving force behind the great tasting foods available from the Creating Taste kitchens. Using good quality ingredients, locally sourced wherever possible, we produce a range of savoury main courses that are frequently sold under our customers own brands.
In 2012 a second kitchen was opened to give us the space to expand and we have continued to grow our business, and we now have the New pasty - The BRUM pasty (registered trade mark).
2023 sees the launch of a range of delicious thaw and serve quiche that are great for any menu.
If you are interested in finding out more about Creating Taste products please contact us on 0121 551 6827, 07812 503043 or e-mail us on creatingtaste@hotmail.co.uk