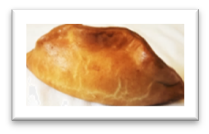 Creating Taste produces a range of handmade, ready to bake pies and pasties. The pasty would have helped to feed the workers of the industrial revolution as they built  the canal network for distributing goods, and developed the great manufacturing base we are famous for.  The BRUM pasties are a fitting tribute to the inspirational workers of the industrial revolution.
We use locally sourced meat from farms and butchers. Fresh vegetables are delivered daily and prepared by hand. Our Caerphilly cheese is sourced from a specialist Welsh producer, and the pasties are folded by hand in our own savoury pastry.
A pasty is one of the Nations favourite pies – and with a GOLD award and finalist in the 2019 British Pie  awards, 2 silver awards in 2020 and 3 bronze awards  The BRUM pasty really stands up with the best.